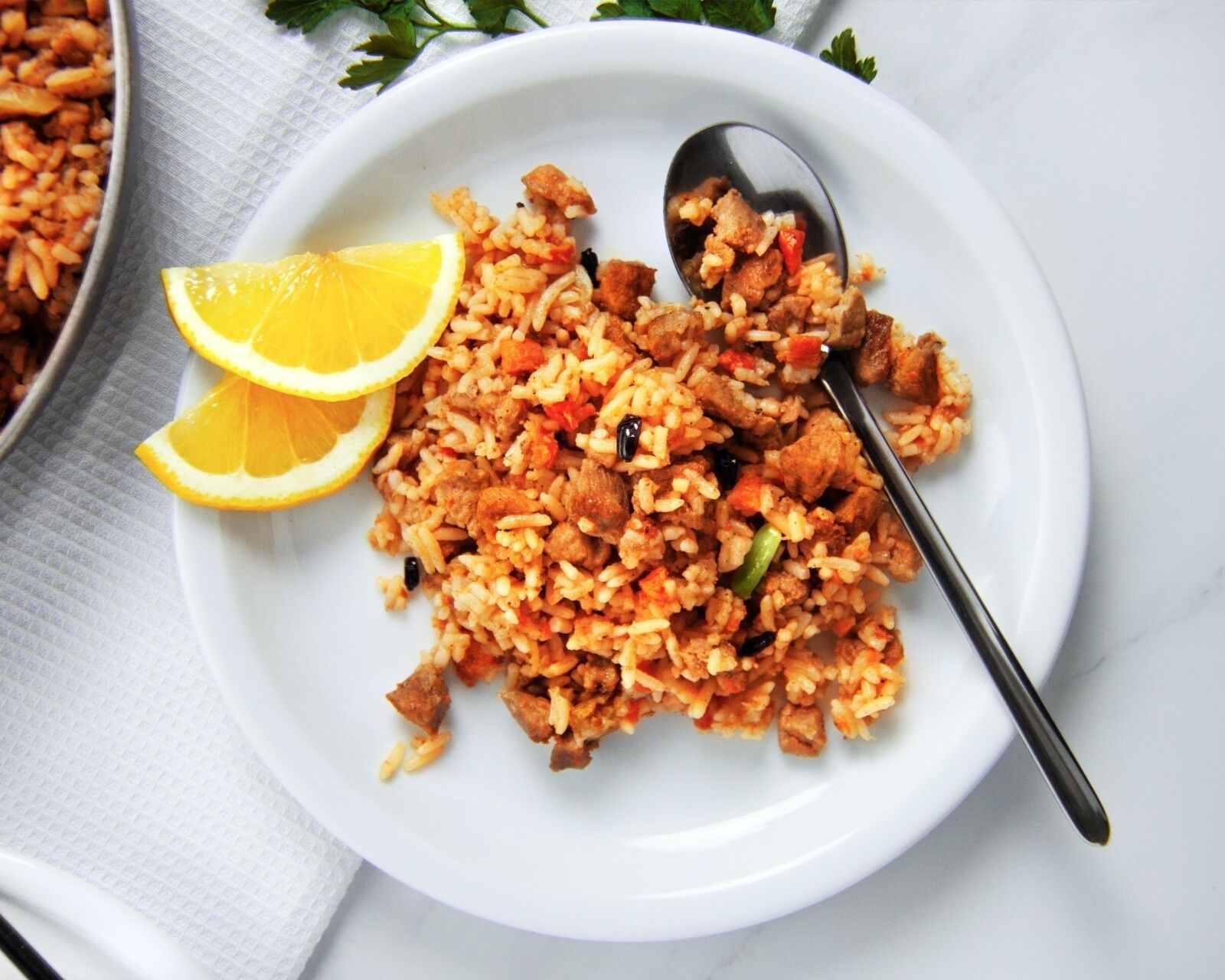 Rice with meat and pilaf are two different dishes. The first is just boiled rice without a bright taste mixed with pieces of meat. The second is a rich dish, in which both the process of cooking rice and the process of selecting and roasting meat are important. Today we want to share with you a simple, but always successful recipe for pilaf, which anyone can easily cook. Stock up on quality rice, pork, and two hours of free time.
 What kind of rice to cook with?
We are used to cooking with parboiled rice or round grain. This is the most popular type that is sold in all supermarkets in Ukraine. However, real pilaf is made with long-grain white rice. In particular, with basmati or jasmine.
Basmati will add a little Indian flavor to pilaf, but jasmine will be sweetish and moderately soft.
How to choose meat?
50% of the success of the dish depends on this stage. After all, if you choose the wrong piece for pilaf, the rice will be either too dry or too fat.
Therefore, we advise you to take the neck of pork, where there is a sufficient amount of fat, but at the same time, the piece itself is not sinewy.
The tenderloin or loin will make the dish slightly flavorful and very dry. Yes, there are no streaks in these parts of the pork, but there is not enough fat. It is needed for the aroma of the dish and to make the lean rice moist.
 Ingredient List:
1 cup uncooked basmati (or jasmine) rice
700 g pork
1 large onion
4 medium carrots
1 head of garlic
70 g barberry
100 ml olive oil
1 teaspoon fine salt
1 teaspoon ground cumin
1/2 tsp ground turmeric
1/4 tsp dried marjoram
1/2 tsp ground coriander
1/2tsn ground paprika (smoked)
2 cups boiled water
Cooking method:
Start by rinsing the rice under warm water and leaving it in a bowl to absorb some moisture. Preheat the oil in a cast-iron saucepan (or skillet) and add the diced pork, onion, and julienned carrots. Fry everything for 30-40 minutes.
While the meat is roasting, measure out the herbs and spices and mix them. A ready-made mixture should form, which can be easily poured into the vessel.
Next, fry the ingredients with the mixture and add boiled water. Stir a little and leave over low heat.
Cut the head of the garlic to expose the cloves and place it, cut side down, in the center of the meat liquid. Cover and cook for at least another 40 minutes.
Then you can pick up the garlic, add the barberry and close the lid again. At this point, you need to reduce the heat to a minimum and let the rice boil for another 30-40 minutes. You need to cook until the water evaporates in the pilaf. If your rice is done and there is still too much water, just open the lid and add heat to high. This will quickly evaporate the liquid and prevent the rice from boiling over.
As soon as the rice is cooked, immediately transfer it to a separate bowl, because it will continue to cook in a warm skillet or saucepan.
How to reheat rice?
Yes, you have prepared a very tasty pilaf, but the next day it will inevitably lose its aroma and consistency. What to do: cook in small portions so that you can eat everything at once? Of course not.
To revive the rice and make it look like it's just cooked, it's best to add broth. It will make the pilaf rich and just as moist as it was right after cooking.
If you don't have stock, you can add plain water. However, if you add more liquid than necessary, the rice will not heat up, but rather cook. As a result, you will get boiled pilaf.
It is best to add liquid when the rice has already warmed up a little. Then it will definitely keep its shape and be very juicy.
The term of consumption of rice with pork is only 5 days. However, if you cook pilaf according to our recipe, it will not remain until the day after preparation.